We recently went to 5 days of camp as a family. One important thing that comes to my mind in preparing for camp is LICE. No matter how careful you are, there's always a risk of one of your kids coming home with lice when you live in close proximity with others that may unknowingly have it.
If you've never dealt with lice, you are blessed indeed! It is quite the nightmare and not anything I would wish on anyone. You have to be diligent and thorough to get rid of it, but it can be treated naturally. No need to expose your family to hazardous chemicals!
One of these days I'd like to write a step-by-step guide on getting rid of lice naturally, but today I'm just sharing a simple lice spray to help prevent lice. Prevention is always best and will save you hours upon hours of not having to get rid of it.
We used this DIY lice spray on our bedding, pillows, brushes, and hair every day. This lice spray repels lice and makes the risk of contracting it a lot less. And since we've been back from camp for a few weeks now, we have shown no signs of the critters – thankfully! We certainly don't get lice every year at camp, but only getting it once from camp is enough to put you on guard the rest of your life! 🙂 
DIY Lice Prevention Spray 
It's very simple and quick to put together this spray. Just water, witch hazel, and a few drops of essential oils! Here's the oils I use in this spray:
Tea tree essential oil – Tea tree oil is a huge star oil in this recipe! It is so good with repelling and even killing lice! (Buy tea tree essential oil here)
Lavender essential oil – Lavender oil is considered a natural insect repellant. [1] I happen to love the smell of this oil, but insects (including lice) do not! (Buy lavender essential oil here)
Rosemary essential oil – Rosemary essential oil is another oil that repels lice, and one that I conveniently have on hand. (Buy rosemary essential oil here)
Witch hazel – Witch hazel is a natural preservative
Ingredients
10 drops tea tree oil
7 drops lavender oil
7 drops rosemary oil
1 oz. water
1 oz. witch hazel
Directions
Mix all ingredients in a spray bottle and shake well before each use.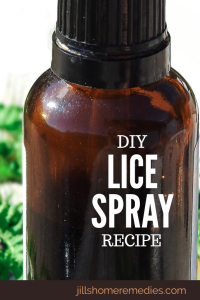 DIY Lice Spray
2019-08-02 23:26:04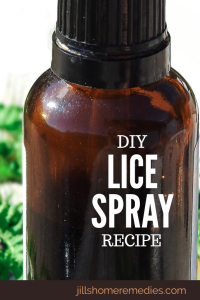 Ingredients
10 drops tea tree oil
7 drops lavender oil
7 drops rosemary oil
1 oz. water
1 oz. witch hazel
Instructions
Mix all ingredients into a spray bottle.
Shake well before each use.
By Jill York
Jill's Home Remedies https://jillshomeremedies.com/
 References
1. Headlicecenter. "How Lavender Oil Can Help You Treat And Repel Head Lice." Head Lice Center, 17 June 2018, headlicecenter.com/lavender-oil-for-lice/.
<!-- -->

Credit: Source link
We had such a cool June here in the Midwest, but July has roared in with its typical humid summer heat. Lemonade and summer go hand in hand, so it's no surprise that a cold glass of this lemonade helps a person to handle the heat a tad bit better. In this post, I want to quickly show you how to make lemonade with lavender flowers as another unique and healthy twist to this common, refreshing drink.
Recently my little girl wanted to make me some red clover lemonade, but unfortunately the red clover we normally find growing in the old garden spot did not grow there as it normally does. We decided instead to make lemonade with some dried lavender that I have on hand. 
Lavender is one of my favorite herbs because it helps headaches and stress. It's a very soothing and fragrant flower. I love inhaling lavender's scent, and I enjoy adding the little purple flowers to tea mixes and cookies. The essential oil is quite useful too. One of my favorite ways to dissolve headaches is to place lavender essential oil on a diffuser necklace and wear it for about 30 minutes. 
The following recipe for lavender lemonade is similar to the recipe that you find in my How To Make Red Clover Lemonade post, and yet it's different enough that I'm sharing it with you today.
One thing to note is that depending on how strong of a lavender flavor you would like in your lemonade, you can add up to 1/4 cup of lavender flowers. If you want just a touch of lavender flowers, you would probably just want to add 3 tablespoons. Also, the beautiful purple from the lavender flowers does not make your lemonade that color. I was surprised that it turns out to be a yellow/brown color. Some people add food coloring to their lemonade to make it a pretty purple. I personally try to avoid the fake colorings, but if you have natural food coloring, you can add one drop of blue and one drop of red to achieve a pretty result.
Lavender Lemonade for Headaches and Stress
Ingredients
Directions
Bring 3 cups of water to a boil and remove from heat
Add dried lavender flowers and honey. Stir while hot until honey is dissolved.
Cover pan with a lid and steep 15 minutes
Strain the lavender flowers 
Add lemon juice and the last 2 cups of cold water to the lavender tea.
Add ice and refrigerate
Lavender Lemonade
2019-07-05 20:56:24
Ingredients
5 cups of water
1 cup honey
1 cup lemon juice
Up to 1/4 cup dried lavender flowers
Instructions
Bring 3 cups of water to a boil and remove from heat
Add dried lavender flowers and honey. Stir while hot until honey is dissolved.
Cover pan with a lid and steep 15 minutes
Strain the lavender flowers
Add lemon juice and the last 2 cups of cold water to the lavender tea.
Add ice and refrigerate
By Jills Home Remedies
Jill's Home Remedies https://jillshomeremedies.com/
<!-- -->

Credit: Source link